Brett
Food
A Blog About Food
&
Web Design
Duck Quince & Root Stew
OK. The truth is, I don't know what those orange things are called. If I was in Hawaii and doing this again, I'd use Lilikoi, so I'm sure any old sour fruit will do. Kumquats, for instance, would work, which these just might be. Truthfully, I don't know.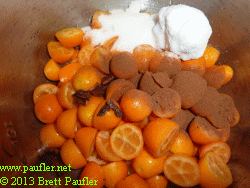 The above shows the assembly and cooking of the chicken. Cinnamon, anise, and sugar are the key ingredients.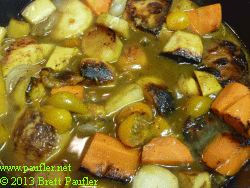 And this is the leftovers -- a root stew. Almost burnt root vegetables, simmered in kumquat sauce. So, yeah, maybe these are kumquats. I still don't really know.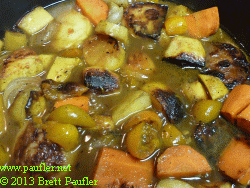 Also don't know what the different vege's are. Carrots, turnips, potatoes, whatever. Makes no never mind to me.

Oh, and this stuff was great: not good, not swell, but great - pure and simple.

Copyright © 2013 Brett Paufler
The Giggling Gourmand

Truthfully, this was the type of dish that inspires story and legend.
Not that I've written anything about it -- not yet.
But someday, I might.
And if I do, this is the site I'll post it to -- my writing website:


Brett

Words