Happy
Haole
Holidays
The
Great
Uncle
Brett
Activity 1: The Card

This is a do it yourself holiday, so get in the spirit and choose yourself a card.

(Note: these images are scaled according to screen width, so if they're too large for your liking, try resizing your browser.)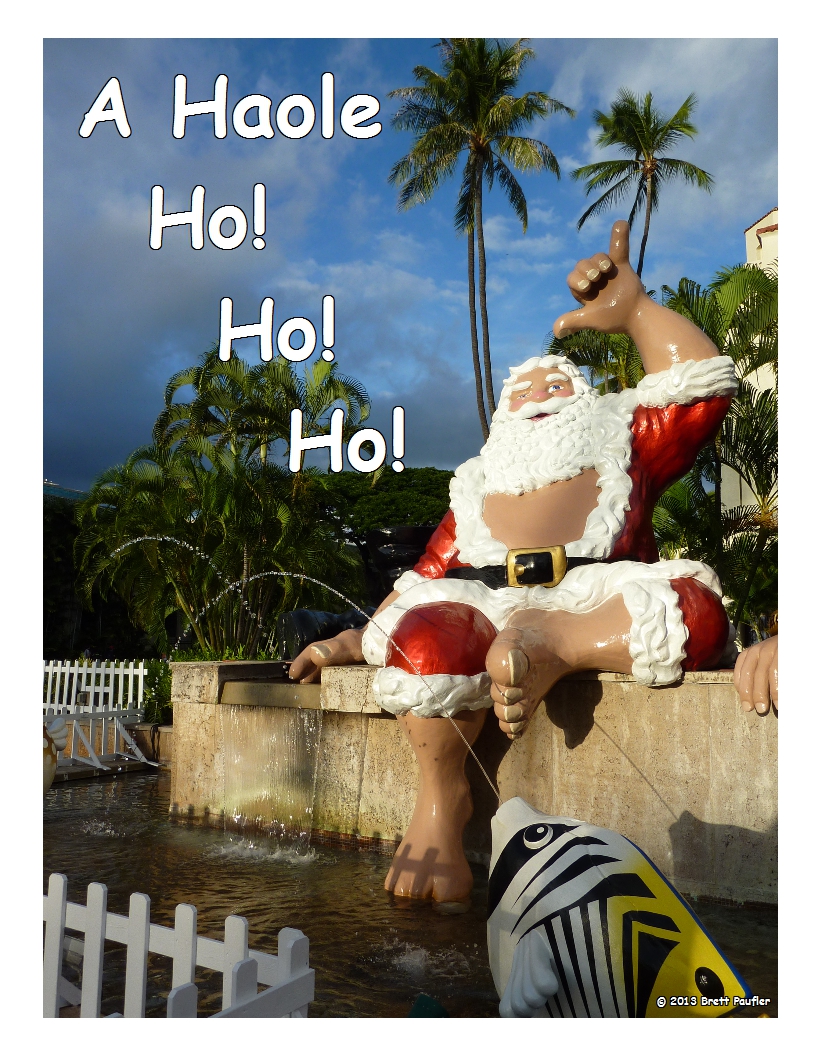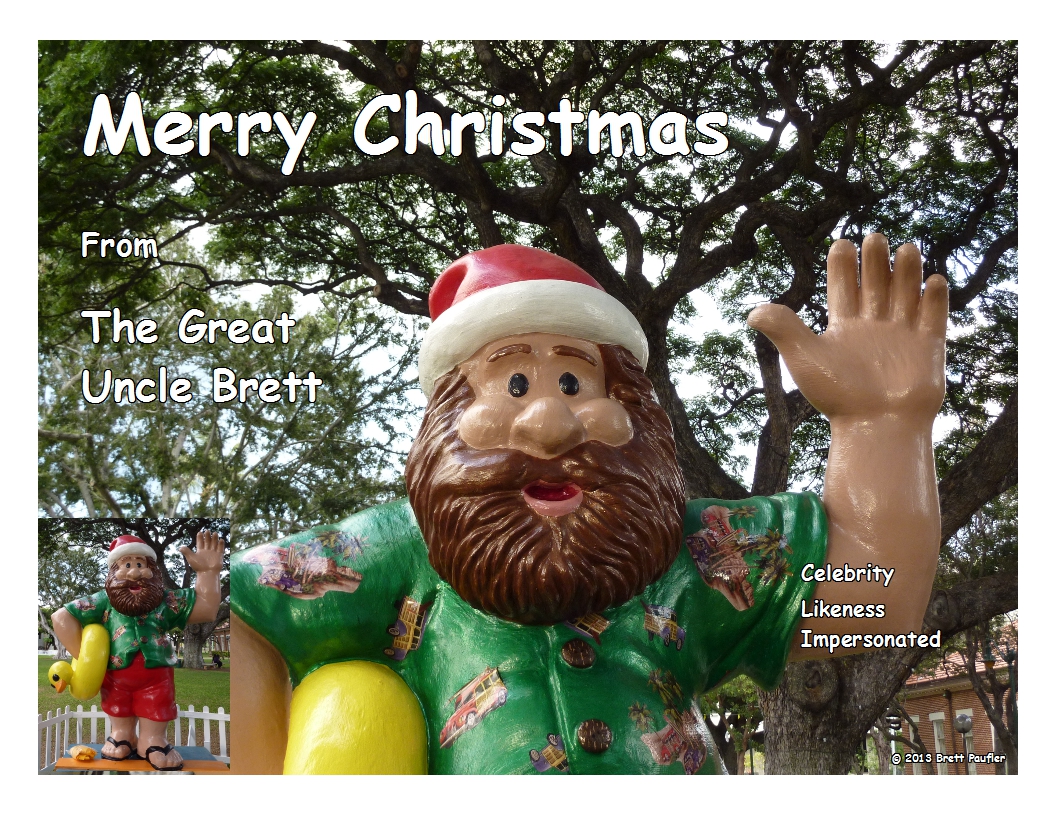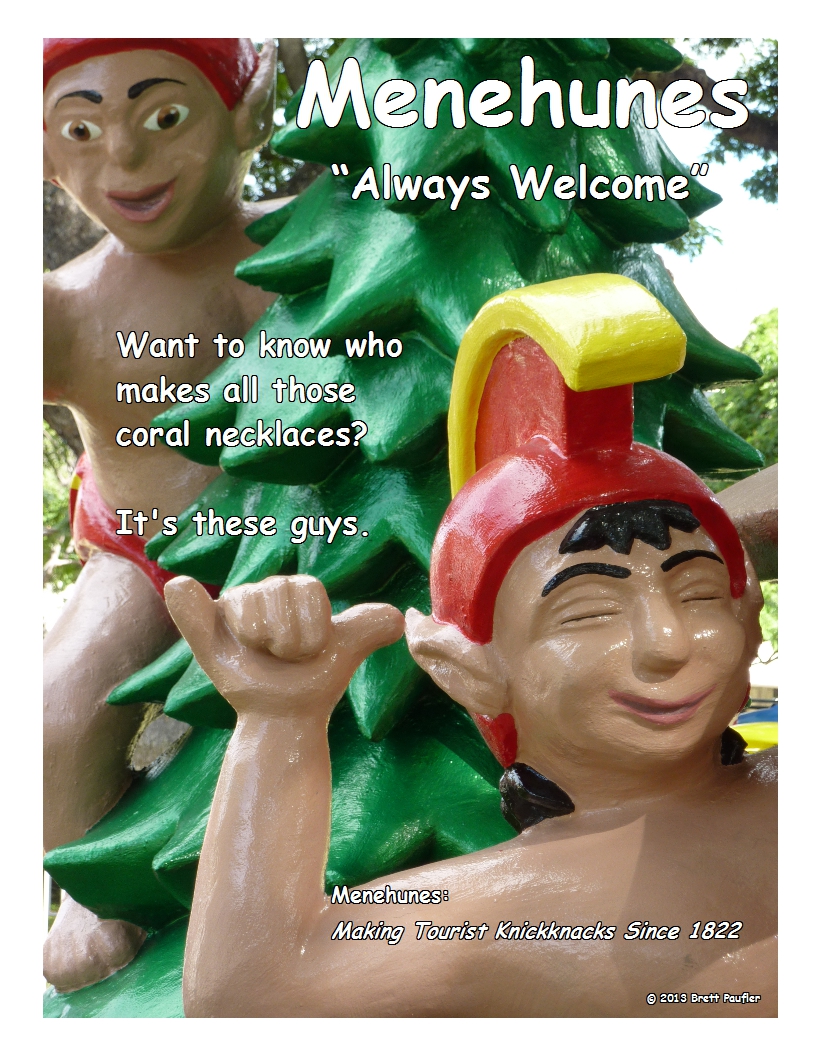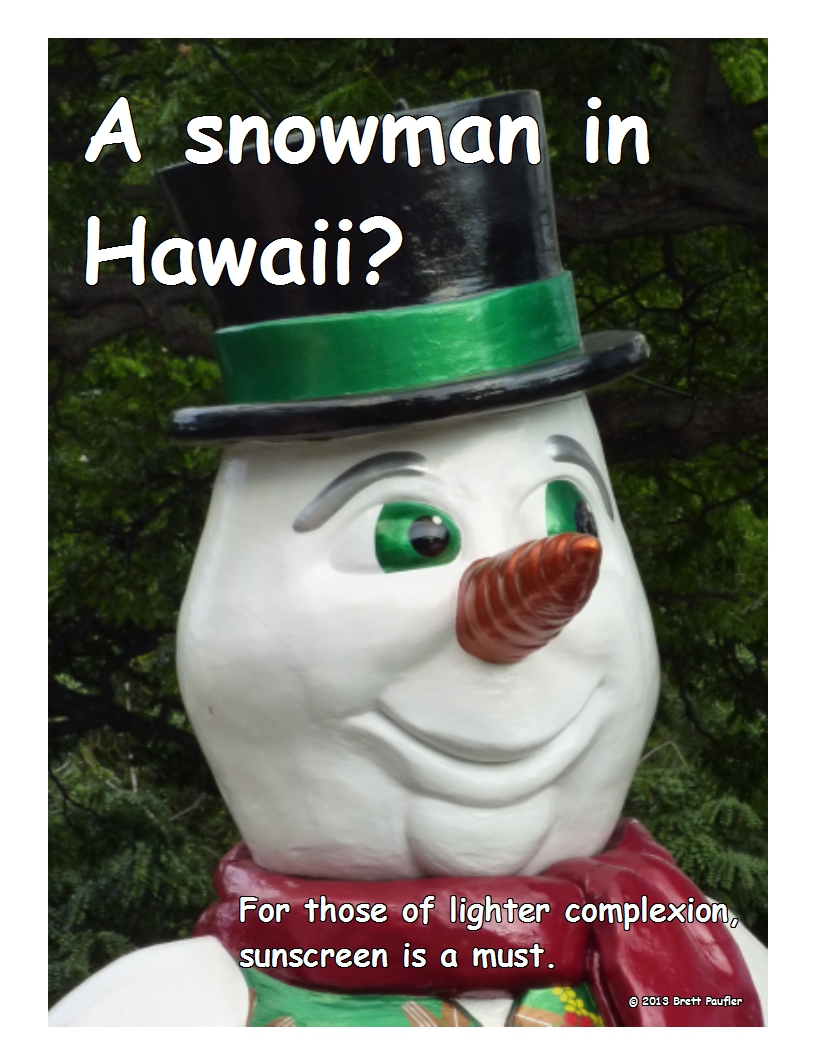 After selecting the card (or cards) of your choice:

Print it
Sign it (being sure to wish yourself a Merry Christmas and a Happy New Year)
Place in an envelope
And place is under the palm tree (or for that extra special touch, add a stamp and mail it off to yourself)


As they say, 'Ho, Ho, Ho, Merry Christmas!'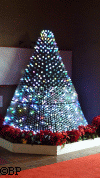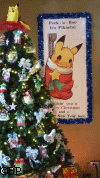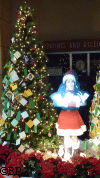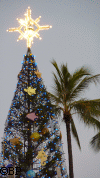 Activity 2: The Presents
What Christmas would be complete without presents?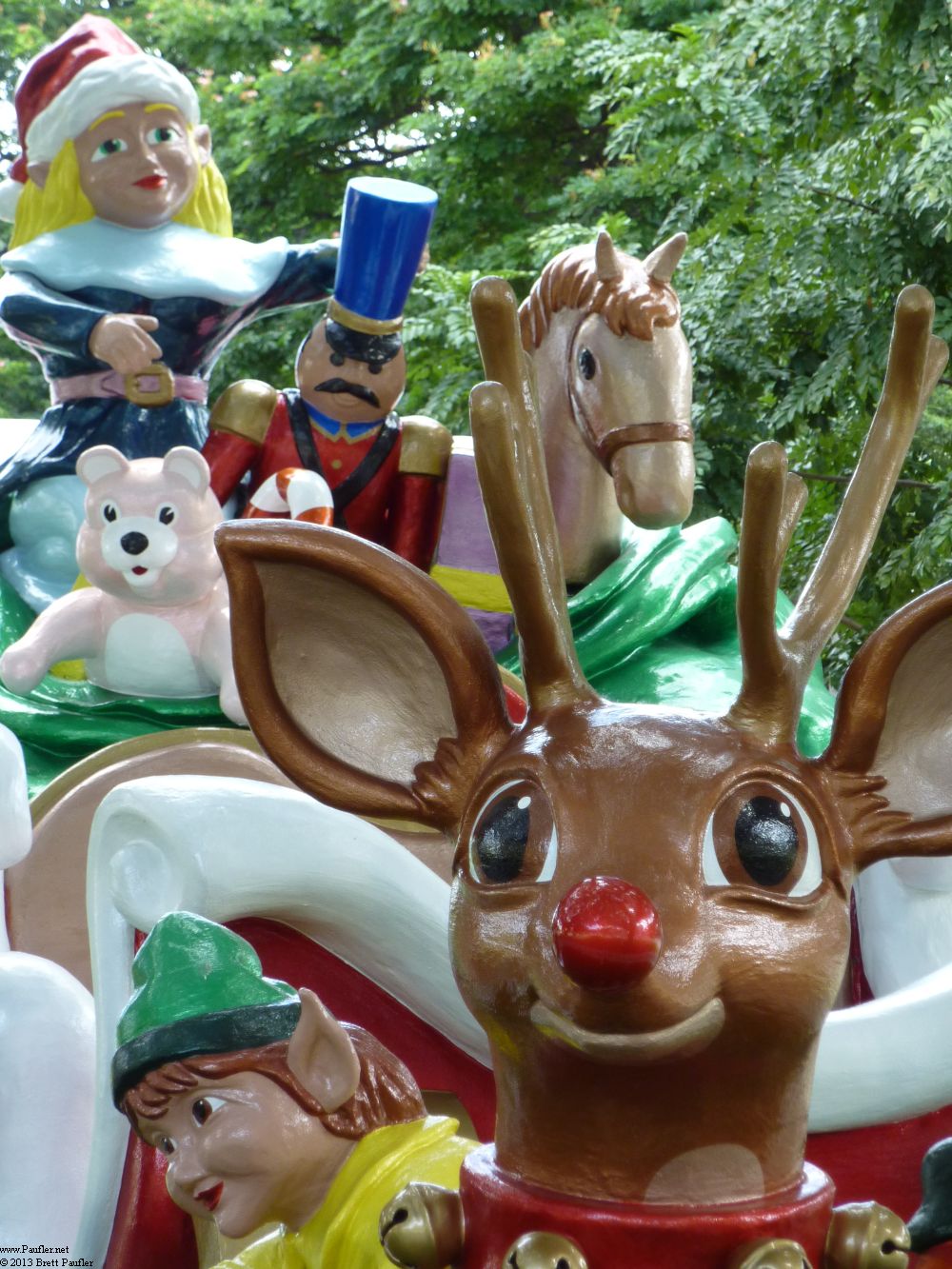 Because hopefully you're not counting on me for that.

But just in case your are, I'm a gambling man. And so, I'm willing to bet that you'll never show up on my Hawaiian doorstep to collect. But if you do, I'll be more than happy to buy you a nice plate lunch or cook you anyone of my now World Famous Dishes (certain exclusions apply, must be present in Hawaii to win, copy of original web page must be presented at time of redemption, digital copies will not be honored -- so, um, like good luck with that, but really, just kidding). Drop by, I'll feed you.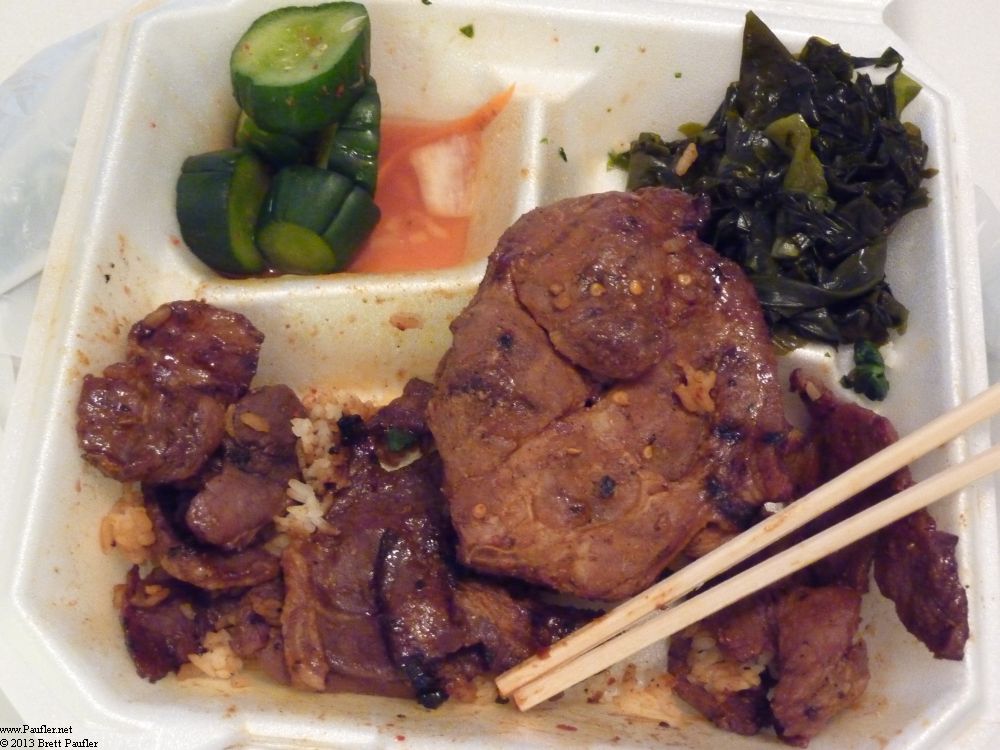 Of course, one thing I'm not promising to do this time is put you up. Oh, I'd be happy to have you, there's always room on the floor. But a certain other person (I think we all know who I'm referring to) has the final say in such matters, so best to clear your plans through her or you just might find yourself sleeping in the park, which isn't so bad, as the homeless around here tend to eat pretty well (see above if that's not clear).

Anyway, that might seem a little meager. Travel all the way to Hawaii for a measly plate lunch (or any one of These Fabulous Dishes)?

But like, there's other stuff to do in Hawaii once you get here: like going to the beach.



Previously an image went here, but I decided to pull.

Waikiki Beach: Girls in Foreground




We have lots of beaches.




Another image that I decided to pull long term. Hmm, beach pics, wonder why?

Waikiki Beach: In Foreground, Older Couple Pitching a Sun Umbrella




Or then, there's always cultural activities. This next is a new find for me.



Or just lazing about at home. Here's a view from our luxury apartment in the sky (actual view may vary).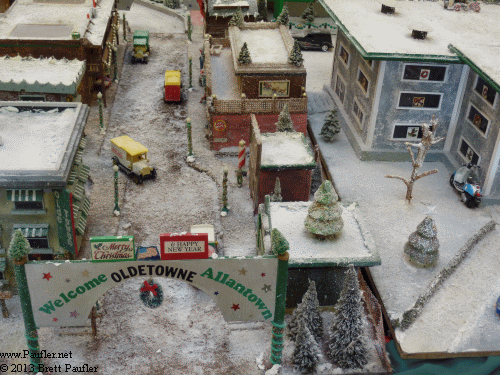 And if you come during the Holiday Season, you can always check out the light show.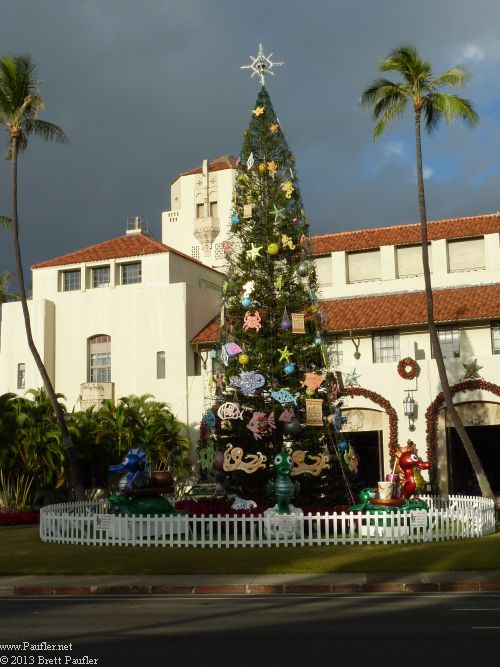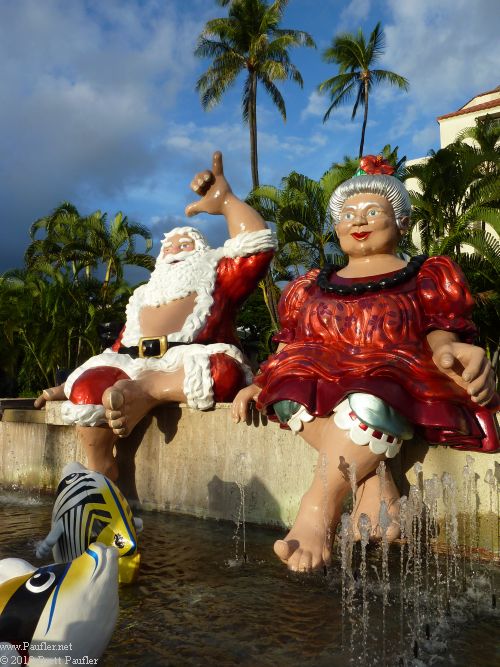 Honolulu City Lights

Activity 3: The Fond Farewell
Anyway, that's about all I had to say.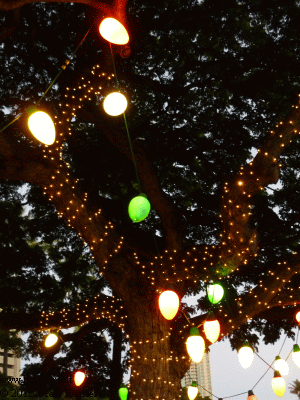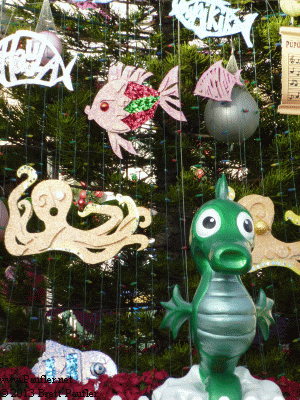 Love,
The
Great
Uncle
Brett
© 2013 Brett Paufler