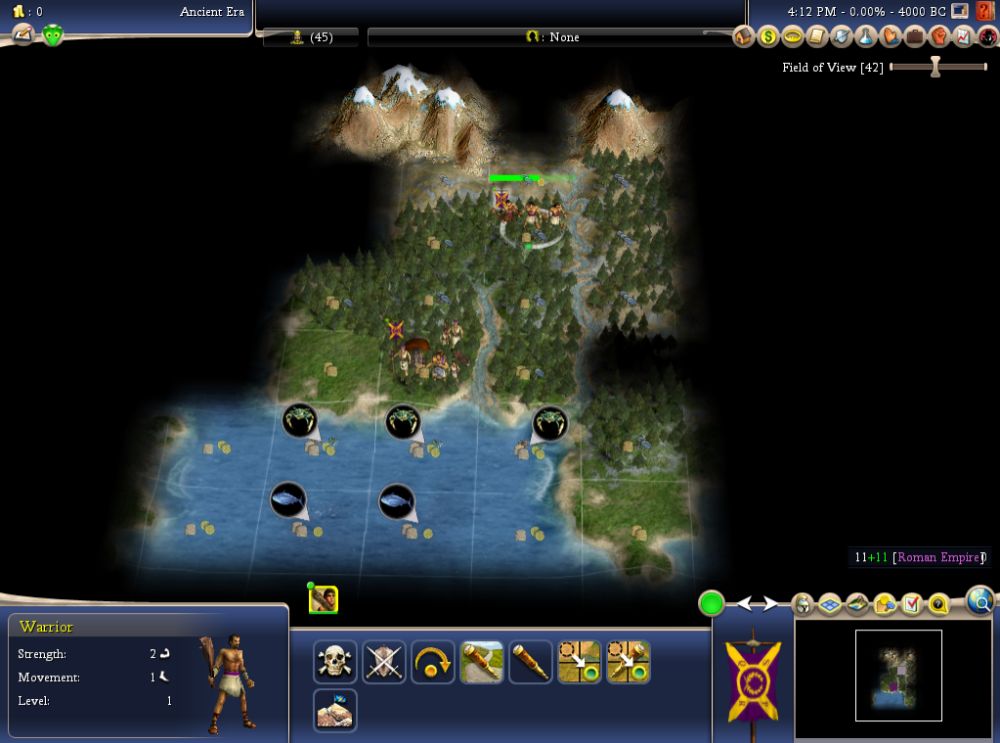 Home Sweet Home

The Settings
Noble
Augustus Caesar of Rome

Map: Tectonics
Size: Small
Era: Ancient
Speed: Marathon
Landmass: Lakes 30% Water
Aridity: Wet

No Barbarians
Aggressive AI
Permanent Alliances
No Tribal Villages
No Random Events

All Victories

15 Total Civilizations
14 AI Opponents

Twelve of the AI Opponents are pre-selected and listed out in
017-roman-war-machine-notes.txt
. My intent was to select the most warlike. But on this, individual opinions will differ.
Beyond the Sword 3.19
BUG Mod 4.5 [Build 2221]
BULL 1.4 [Build 243]
BAT Mod 4.1

The Pre-Game Strategic Huddle
I think a quick point counterpoint format will work best... for me, at least, if no one else.
Noble

And this is the setting on which Human and Computer are closest to parity.

Augustus Caesar of Rome

Forum!

A Market that provides +25% Great Person Points!

Praetorian

An 8 Strength Swordsman replacement.

Some say the best Unique Unit in the Game.

Um, the strategy will be War!

A Small Map with Lots of Opponents.

There will not be enough room.

Aridity: Wet
Landmass: Lakes 30% Water

Means, slightly more land.

And Navies will be of minimal importance.

Speed: Marathon


Increases the importance of Units ever so slightly.

Tripling the relative speed of Unit Movement (versus the Build Queue) is the most pronounced change, in my opinion.

War should be more lively.

While, the following three settings (once again, in my opinion) reduce the impact of luck.

No Barbarians

Not to worry, there are plenty of AI opponents.

And Cities, already, wherever a Barbarian City would have sprouted.

Aggressive AI
Permanent Alliances

Will anyone avail themselves?

All Victories

But Domination or Conquest are the only ones I am expecting.

This game is not going to last long enough for anyone to build a Spaceship or achieve a Cultural Victory.
A few other thoughts:
I expect Wonders will be harder to land.

On account of all those opponents.

The same with Religions.
War Weariness will be less important.

The wars will be earlier, so cities will be smaller.

And smaller Civilizations (because there are more of them) means shorter wars.
Oh, I should, also, mention that I am enabling Normal Technology Trading, as any other setting is difficult on the AI. Now, I question whether normal Trading is fair to the Human. But it's been a while since I've played that way, so time to be annoyed and watch as the AI Collective advances.
And that's about all the ideas I have for the Pre-Game Huddle.
Let's start this sucker!