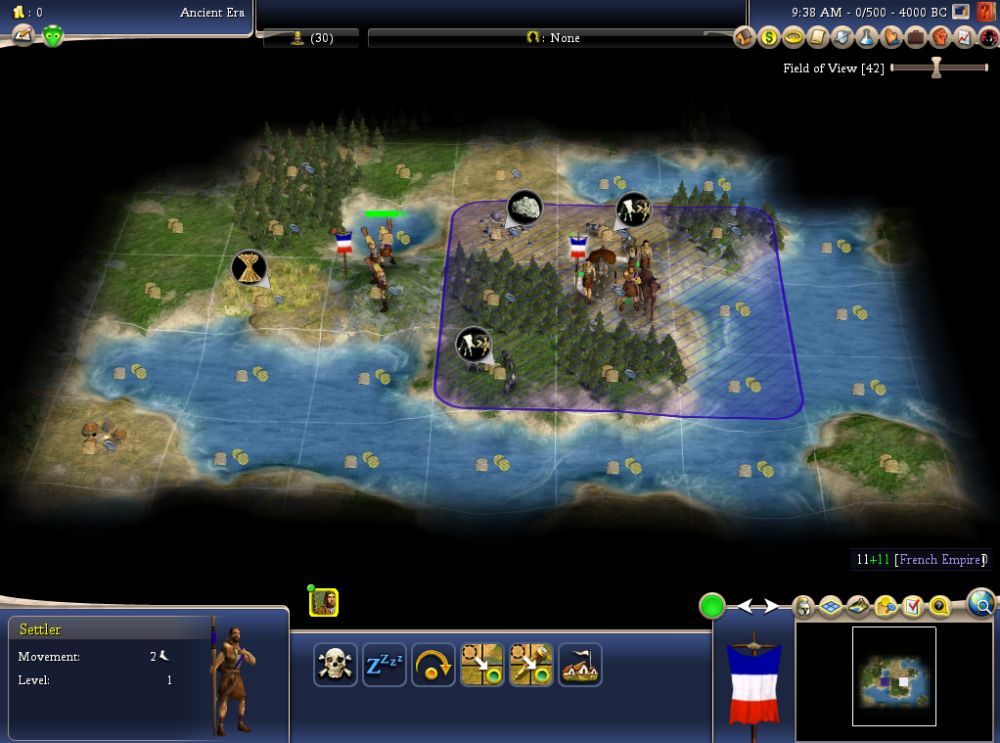 The above images shows the start after (optionally) moving the warrior onto a hill revealing wheat. Clearly, moving the settler one west will provide a much greater capitol. But I am inclined to settle in place. My thinking being that I plan to go for Sid's Sushi (don't really see how I can't get it) and I can leverage the benefits of that to a greater degree by having more smaller cities. Of course, Sid's Sushi comes so late in the game as to not matter. But then, I'm thinking about setting up a (late game) secondary goal or two for myself, so that founding Sid's Sushi does matter: like maximizing the number of Future Techs I discover.
Settings
DeGaul
of the
French Empire
Noble Difficulty
No Barbarians
And an
Isolated Start
Meaning, until Astronomy one doesn't have to worry (and really can't do much) about either offence or defence.
Toroidal
I haven't played a game (that I can remember, anyway) that wraps up and down, left and right. My ice up north isn't going to be as secure as I thought it would be. But I just checked and there's at least one ocean tile, between France and everyone else (even to the North), so it is, indeed, an isolated start.
Also, completely unrelated to this game, I hit the wrong buttons while in World Builder (checking the ocean tiles, don't you know) and found that I could give myself Lion Units. So, possibilities... but not for this game. The save file is un-effected and contains no added lions.
Version
Beyond the Sword 3.19
BUG Mod 4.5 [Build 2221]
BULL 1.4 [Build 243]
BAT Mod 4.1
There are
Seven Rival Civilizations
on a total of
Four Large Landmasses
. So, I was expecting to share my starting continent with another, but lucked out and got one to myself.
And that's about all I have to say about the map.
The French Empire starts with The Wheel and Agriculture (not exactly what I would like for this map) and although it's Unique Building comes rather late in the game (it is an Observatory replacement), the Salon provides a free Artist (another reason to have lots of cities... and run Representation) and seems pretty nice. The French, also, get Musketeers as their Unique Unit, which are simply two movement Musketmen (and are absolutely nothing for me to get excited about, as muskets never last long in my games, but we'll see).
DeGual is Industrious (+50% Wonder Production and Double Production Speed of Forge) and Charismatic (+1 happy per city, -25% experience for promotions, and +1 happy from Monuments and Broadcast Towers).
I am sure I chose DeGual for the Wonder Production Bonus, but that happiness is looking pretty sweet, as well.
Extra Curricular Activities
I expect to win. I'd say I expect to trounce the AI, but one never knows. And it certainly may not feel like a trouncing in the end. Anyhow, knowing that I am isolated, I will be able to delay all the Military Techs until after Astronomy, which means I can overload the first half of the game building wonders, infrastructure, and quality of life improvements: such as, founding a religion or two.
As such, I think a few secondary goals are in order:
1: I win triumphantly by getting twenty-five Future Techs, while fifty plus is will be a dazzling brilliant win. I have no idea if this is remotely possible.
2: My people like Sushi, so when waging war, they
prefer
capturing island cities or those that control fish or rice resources.
And from there, I will point you in the direction of my in game notes (links below) for a further discussion of my pre-game strategic analysis.